NewAir I.B. Express
The NewAir I.B. Express inflatable cushioning system quickly produces Barrier Bubble material at 55 ft per minute in 12″ and 24″ film widths – fast enough to keep up with the most demanding packaging operations. Superior performance allows for less material usage and promotes reusability.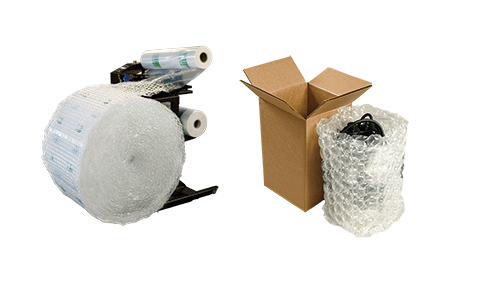 Versatile
Small footprint and variety of batching, delivery and converting options fit almost any packaging environment.
Save Valuable Floor Space
Fits on a tabletop or can be mounted on a table-side stand. A single film roll can produce 5000 square feet of 1/2 inch Barrier Bubble® material, creating on-demand packaging and avoiding storage of bulky material.
Responsible Packaging
Material is lightweight and inflates on-site taking up a fraction of the truck space to ship conventional packaging materials and reduces the transportation impact.
Multiple Sizes Offered
Available in two different film widths, 12 and 24 inches, a variety of standard and premium film options as well as Anti-Static film.
Available Accessories
Supported by a large array of system accessories including System Stand & Rollwinder, Instasheeter™ Converting System, and JetStream™ Delivery System.