We have a variety of equipment to suit your packaging needs.
High Volume Void Fill
The FillPak system converts fanfold kraft paper at a high speed into a PaperStar configuration that maximizes volume, for fast and efficient void fill. Single-ply fanfold kraft paper allows the system to operate at high speeds with virtually no down time. The system can fit over any conveyor system to dispense void fill material directly into the box, making it extremely efficient for random applications.
Inflate-on-Demand Protective Packaging
Properly packing your products for shipping is critical to reducing damages and returns. With proper packaging methods and materials, you can ensure your products reach their destination in perfect condition. Inflate-on-demand void-fill, air cushioning, and block and brace products can minimize the size and weight of the overall package for lower shipping costs.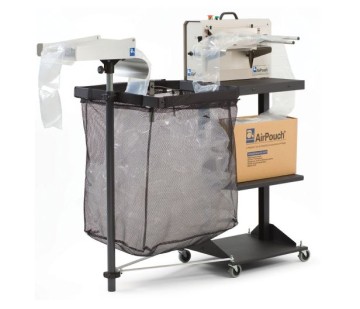 Light Cushioning and Void Fill
PadPak LC converts fanfold kraft paper into a light cushioning pad for fast, efficient cushioning, blocking and bracing, or void fill packaging applications. The converter forms the paper into a protective, shock absorbing paper pad through a patented folding and stitching process.
Void Fill and Cushioning
FillPak TTC converts fanfold kraft paper into a PaperStar configuration for fast and efficient void filling. In addition to adding a cut mechanism to the FillPak TT, the upgrade also gives the operator the ability to pre-set paper lengths via an Electronic Delivery System mode. The unit can be set up to dispense void fill material in lengths of 12 inches up to 10 feet. The TTC can be easily adapted to any packing environment or integrated into areas with limited space.